How To Try
Aecho

Reveal TM & Frequently Asked Questions
What is Aecho Reveal TM?
Aecho Reveal TM is one of our featured services that lets you use our powerful tonal analysis services to get a quick summary of various psychometric traits and much more.
How do I use Aecho Reveal TM?
Aecho Reveal TM is free for testing presently, and we are letting users test out our pilot. Follow the instructions on the right to know more about how to use it.
What is Tonal Analysis?
Tonal analysis is one of the myriad applciations of advanced AI and ML models wherein we gauge various facets of the human condition such as personality types, emotional well being, reception to various conditions and more all in a bid to ensure you can better understand yourself. If you have any queries,
feel free to contact us and we'll help you out as soon as we can.
Can I do multiple tests? Will it be free forever?
For now, we're letting users do as many tests as they want through our pilot service. However post the pilot period we will have a credit based system, ie., a freemium model.
Find out more information by staying up to date and looking at our license and terms of use..
Steps for using Aecho Reveal TM
1. Visit this link. to complete the registration. It is currently free and all you need is an email address and a verification code that will be sent to your email.
2. Once you're done with the registration, you'll be presented with two questions. You need to answer each in turn - Please note that you can either directly record or upload a pre recorded audio file for each question.
3. Once you're done, the site will prompt you for an agreeableness score, rate it on your perception of how agreeable you are. If done correctly, it'll show you the audio files and you'll be presented with a summary!
What does Aecho do with my audio recording?
Here at Aecho, we are always committed to your privacy and data security. As such, you'll be presented with a small set of questions letting you choose how we handle your data.
Find out more information by staying up to date and looking at our license and terms of use..
Sample Output & Some Comments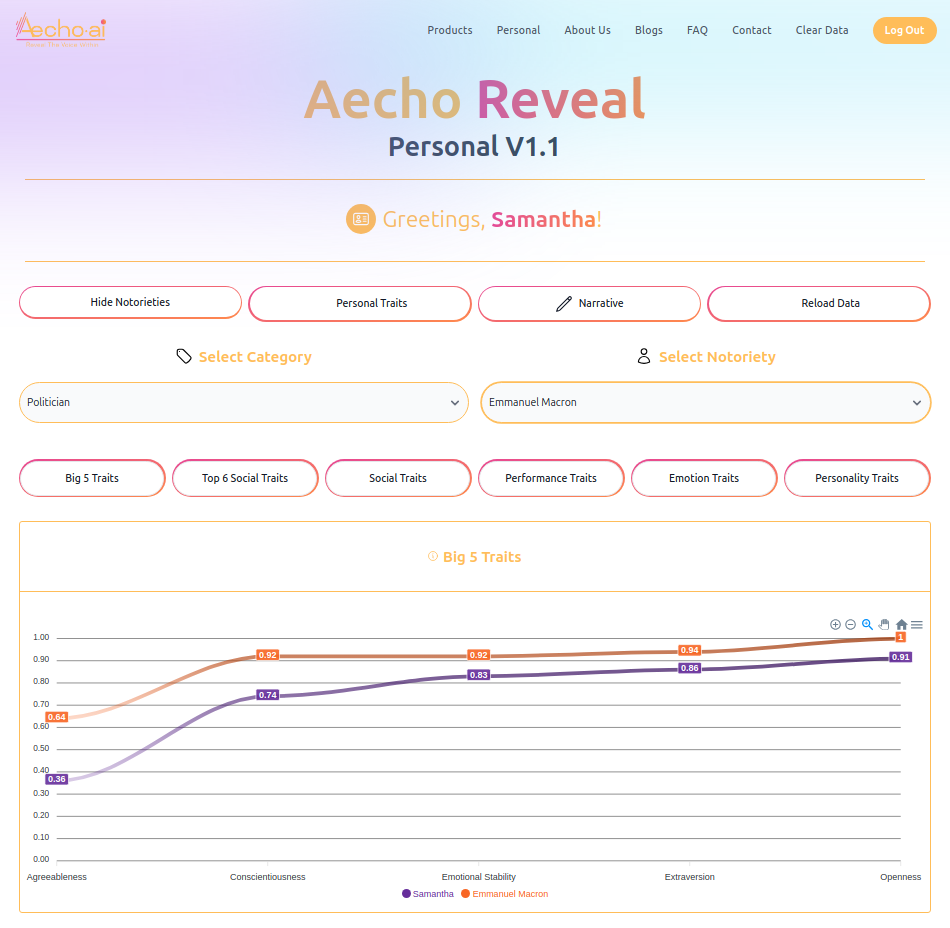 Why Is This Important?

You may know you have more to offer than what people give you credit for. This becomes especially important when you are faced with important personal, education, or career decisions. Maybe you had a gut feeling about what you could do, where you could go in life, and there was no one or nothing outside of you to support or validate this. Or perhaps you want to know more about your personality, traits, and your emotional health and well-being.

We see our assessment as a simple and easy way to help you better understand and see your potential. At minimum this will get you to start questioning and exploring opportunities and to address those things you would like to improve on.

Please Note : current version works with all browsers except Safari which requires special instructions.